At this current moment in time, Calvin Ridley is better than Julio Jones. All-time, of course, Jones is way better. But today on April, 27th Ridley is the better wide receiver.
Per Peter King's Football Morning in America, the Falcons may "put the framework of a trade" together for Jones.
On the surface, you may wonder why? The first major reason is it could potentially help out their cap situation. If Atlanta were to move on from Jones and the three years $38.3 million left on his deal after June 1st, they could create $15.3 million in cap space for the 2021 season.
Another major reason is the fact that Jones is an aging wide receiver with injury concerns now. Atlanta meanwhile is not a number four pick away from becoming contenders again. They're in cap hell and they need to seriously think about a franchise reboot. Hence all of the quarterback rumors at pick four for the franchise.
The first step in that rebuild would be to move on from one of the best players in franchise history. The Falcons would be wise to move off of Jones starting June 2nd.
The Falcons have a little predicament on their hands and it's their cap space for the next few years. For 2021, the Falcons have the ninth oldest roster in the league at 26.84 years of age per player. To go with that, they have -$231,711 cap space for 2021. On top of all of that, they aren't a very good football team.
Offensively, they're fine. Scoring points aren't a problem for Atlanta. In each of the past three seasons, they've ranked in the top half of the NFL in terms of scoring offense. The only problem is, they're electric offense hasn't resulted in any wins. They hold an 18-30 record over that span and haven't made the playoffs since 2017.
So, Atlanta is old, not very good, and doesn't have a lot of money. On paper, that's not great.
Atlanta's biggest problem is the defense, they can't stop anyone. Due to their cap concerns, they can't sign any big-name talents to fix that defense either.
Their cap situation for 2022 isn't much better either. Currently, they only have 20 players signed for the 2022 season. The problem lies in the fact that they have roughly $170 million tied into those 20 players. Nearly 80% of that cap is tied into just five players, Grady Jarrett, Deion Jones, Julio Jones, Jake Matthews, and Matt Ryan. Those 20 players as well don't include Calvin Ridley, who last season was a second-team All-Pro selection with 90 receptions for 1,374 yards and nine touchdowns.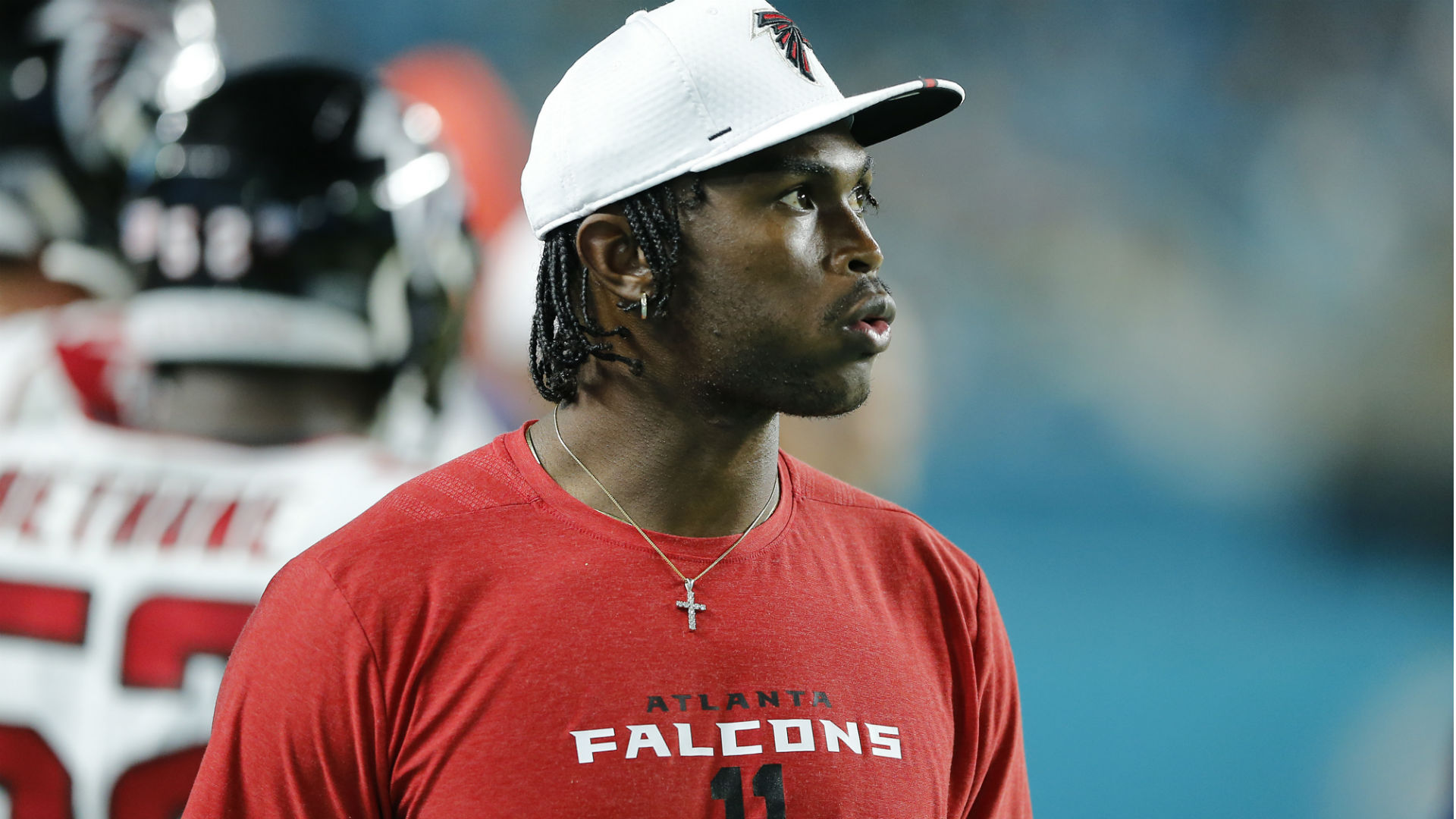 When you're not making the playoffs, and don't have money, you have to start moving on from these franchise cornerstones. That's why we hear that the Patriots are open to trading former Defensive Player of the Year, Stephon Gilmore, and hence why now we're hearing the same with Jones.
Effective June 2nd, a Jones trade would open up $15.3 million immediately because his salary this season is fully guaranteed. If Jones was traded before June 1st, Atlanta is looking at a dead cap hit of $23.25 million. After June 1st, and that dead cap hit becomes just $7.75 million.
Here's what we know about the Falcons. They have a new general manager, a new head coach, and the fourth overall pick in the draft. This regime probably wants to start fresh for the best shot at success. Hence, quarterbacks such as Trey Lance and Justin Fields have been rumored to be the pick at number four.
The easiest step to start that rebuild is to trade Jones on June 2nd for hopefully a defensive starter and any picks you can get. It also helps that you could make the argument that Jones is on the decline already.
You could say that Jones has been a bit of an ironman in his career. Outside of an injury that sidelined him for most of the 2013 season, he's rarely missed any games until now. From 2014-2019, Jones missed just four total games and played all 16 games in three of those seasons. In that span, Jones failed to reach the 1,400-yard mark just once.
Julio Jones is one of the best wide receivers and playmakers in this generation. But is he on the decline?
Jones last year had the second-lowest reception total of his career last year with just 51 total receptions. Even looking at his receptions per game, it's one of the lower marks of his career.
What's troubling is the red line, yards per game. Jones last year suffered his worst yards per game mark since 2012 at just 85.7 yards per game. Part of that is due to Ridley's success as of late. But part of that is also due to his injury concerns and the fact that he's exiting his prime a la A.J. Green the past few years.
Is it possible that at age 32, coming off an injury, Jones returns to his peak? Yeah sure, it's possible. But is it likely, no?
Jones for his career averages 95.5 yards receiving per game. He's about to play his age 32 season, and as a WR1, he's expected to play a full 16 game season, now 17. Below is a list of all the players in NFL history who played a 16 game season and averaged over 90 yards a game while being 32 years or older.
Jerry Rice.
That's the entire list. So what's more likely, Jones bounces back and has Jerry Rice like numbers? Or that he declines maybe just a little bit and possibly gets injured again? I think we all know the answer to that.
I'm not at all saying Jones is washed. Heck, even a 75% Julio Jones is better than a lot of wide receivers in the NFL. Jones is still at a point in his career in which he can contribute to a winning organization. He could be a guy that could potentially put a team like Baltimore or Kansas City over the top.
But, what is there left for him to do in Atlanta? Even if they select Kyle Pitts who many believe is the best player in this year's draft, is Atlanta winning a Super Bowl anytime soon? With that defense, highly unlikely.
Why waste away the last few good remaining years of Jones' career when you can trade him for great value right now? If you squander the next few years away now you're looking at a potential 34-year old Jones and you won't get nearly the amount of compensation you could've gotten.
If you believe, as I do, that Atlanta is selecting Pitts then that's even more reason to get rid of Jones. With Jones, Pitts, Ridley, and others, that's too many mouths to feed with just one football. Addition by subtraction may be what the doctor ordered. You can see this argument beautifully in the Browns offensive success when Odell Beckham Jr. is on the field vs. when he's not.
Jones is a sure-fire Hall of Fame player. Arguably, the greatest Atlanta Falcon to walk the Earth. But, all good things come to an end. Jones' ending with Atlanta should come in June of this year.