In a little over a year, the NFC East has managed to implode magnificently. Abysmal performances, disappointment, and bad luck characterize the on the field issues. While decisions ranging from downright dumb to criminal characterize the off the field issues. For a division with four of the oldest and storied franchises in the league - the Dallas Cowboys -- America's team, The New York Football Giants, Philadelphia Eagles, and Washington -- the last year has been a tumultuous one. The NFC East has traditionally been the most successful division in football, with 21 NFC Championships and 13 Super Bowl victories since 1970, but the events of the past year have put the division further from such prosperity more than ever.
The ineptitude of Dan Synder's Washington football team is a good place to start when discussing the NFC East's recent downward spiral. Star offensive tackle Trent Williams felt as though the organization had mishandled and underestimated the growth of his cancer diagnosis for years, speaking out after the team failed to move him by the trade deadline. Williams initially went to a team doctor in 2013 regarding growth on his head, however it wasn't until 2019 that he found of the cyst was a cancerous tumor from an independent doctor. Any trust between Williams and Washington's doctors evaporated, with Williams saying "the bridge has definitely been burned." Washington messed up Williams' medical care and their relationship with him so badly that they were only able to receive a 2020 fifth round pick and 2021 third in exchange for one of the best tackles in football.
Moving on to the season itself, Washington and New York surprised no one by being two of the worst teams in the league while Philadelphia and Dallas surprised mostly everyone by being barely average. Philadelphia's underwhelming season is less a result of coaching and talent, more so just a stroke of bad luck. The Eagles were ravaged by the injury bug so profusely that it was plausible for backup quarterback Josh McCown to take snaps at wide receiver and the secondary was comprised of players even die-hard Eagles fans weren't familiar with. Dallas was able to turn an impressive 3-0 start into their fourth 8-8 season under Jason Garret, failing to show up in big games against teams with winning records. Rather than competing for a Super Bowl that the talent on the roster and hype from last season promised, the Cowboys were competing for a chance at the playoffs. Collectively, the NFC East was the worst division in the NFL last year. The division posted a record of 24-40, a winning percentage well below .500 at .340, and won just 5 of 16 out of conference games.
This offseason is where everything really spiraled out of control, starting with three of the four teams -- Dallas, New York, and Washington -- firing their coaches. Dallas and Washington made solid hires in Mike McCarthy and Ron Rivera respectively, but New York took a huge risk on New England Patriots special teams coach Joe Judge. Additionally, the G-men also brought in Jason Garret to be the new offensive coordinator, apparently looking to capture some of that 8-8 magic (granted 8 wins is more than 4). Feeling left out in questionable decision making, Philadelphia used their second-round pick to select Oklahoma QB Jalen Hurts. The pick is almost as baffling as the explanation given by general manager Howie Roseman. Regarding the Hurts selection, Roseman said "we're trying to build incredible depth and value on this football team. We want to have 2 of the Top 10 QB's in the league. That's the goal." This makes no sense for several reasons. Firstly, if the Eagles are expecting to have two top 10 quarterbacks on their roster, they'll be having to pay top 10 QB money to each, meaning Hurts would be paid similarly to Wentz: $30 million annually. This means that close to 25% of the Eagles' cap space will be spent on the quarterback position. For comparison, Patrick Mahomes' new contract is only taking up 15% of the Chiefs' salary cap. Secondly, having two of the best quarterbacks in the league is not like having two of the best receivers or edge rushers in the league. Only one quarterback can have the ball and survey the defense at a time whereas both receivers could be running routes, getting open at the same time and both edge rushers could be pressuring the quarterback at the same time. If it wasn't for the Packers trading up to select Jordan Love, the Jalen Hurts pick by the Eagles would be getting a lot more of the scrutiny it deserves.
Speaking of recent draft picks, now is a great time to bring up DeAndre Baker. Selected by the Giants with the 30th overall pick in 2019, Baker really struggled to transition to the NFL as a rookie. Already being labeled as a draft bust, Baker got himself into legal trouble in May after allegedly committing armed robbery with former fellow NFC East defensive back Quinton Dunbar. Baker, along with Dunbar (who had recently been traded to the Seattle Seahawk), had warrants out for their arrest in Florida, each for four counts of armed robbery with a firearm. Baker's warrant also included four counts of aggravated assault with a firearm. The investigation is still ongoing, and the pair are innocent until proven guilty, but given Baker allegedly took part in a payoff to have victims recant their statements, it looks like he won't be suiting up for the Giants any time soon.
DeAndre Baker is unfortunately not the only New York Giant to have gotten into trouble with the law this offseason. Kicker Aldrick Rosas was recently charged with three misdemeanors - reckless driving on a highway, hit and run (property damage), and driving with a suspended license - by California's Superior Court following an alleged hit and run. Rosas was arrested in June by the California Highway Patrol with his hands, legs, and bare feet bloodied from the accident. Rosas reportedly was going 90-100 miles per hour, ran a red light, T-boned another vehicle, and fled the scene on foot. Although it' not unheard of for NFL players to get in trouble with the law during the offseason, two players from the same team alleged committing crimes within two months of each other is quite the coincidence.
Eagles wide receiver DeSean Jackson would also throw his hat into the ring of questionable decisions made by NFC East players this offseason. Over the July 4th weekend, Jackson shared a deeply anti-semitic message attributed to Adolf Hitler on his Instagram. Quoting Hitler is always a bad idea, but doing so publicly and so close to the Fourth of July is quite the head scratcher. Jackson received heaps of backlash, criticism, and rapid enlightenment as to the offensiveness of the post from the NFL community, Jewish players such as Julian Edelman and Mitchell Schwartz, and the Eagles organization made statements commenting on Jackson's behavior. Jackson later tried to clarify in another Instagram post that the post containing the Hitler quote was taken the wrong way. How a Hitler quote could be taken the "right way" I don't know.
Thankfully, no Cowboys player has violated the law or shared a hateful message on social media this offseason, but that doesn't mean there haven't been any head-scratching decisions made in Jerryworld. The failure to reach an agreement on extending quarterback Dak Prescott certainly qualifies as one. At this point, it's still uncertain whether Prescott is wanting an absorbent amount of money or Jerry Jones and company just don't value him as much as they maybe should, but the fact is that the Cowboys could be in the market for a new QB next year if talks fail again and Dak tests free agency. Prescott was a top quarterback last season, throwing for the second most yards in the league: 4,902 and the third most touchdowns: 30, with the fourth highest adjusted QBR of all starting quarterbacks. It's baffling that Dallas hasn't yet secured him to be their franchise QB for years to come.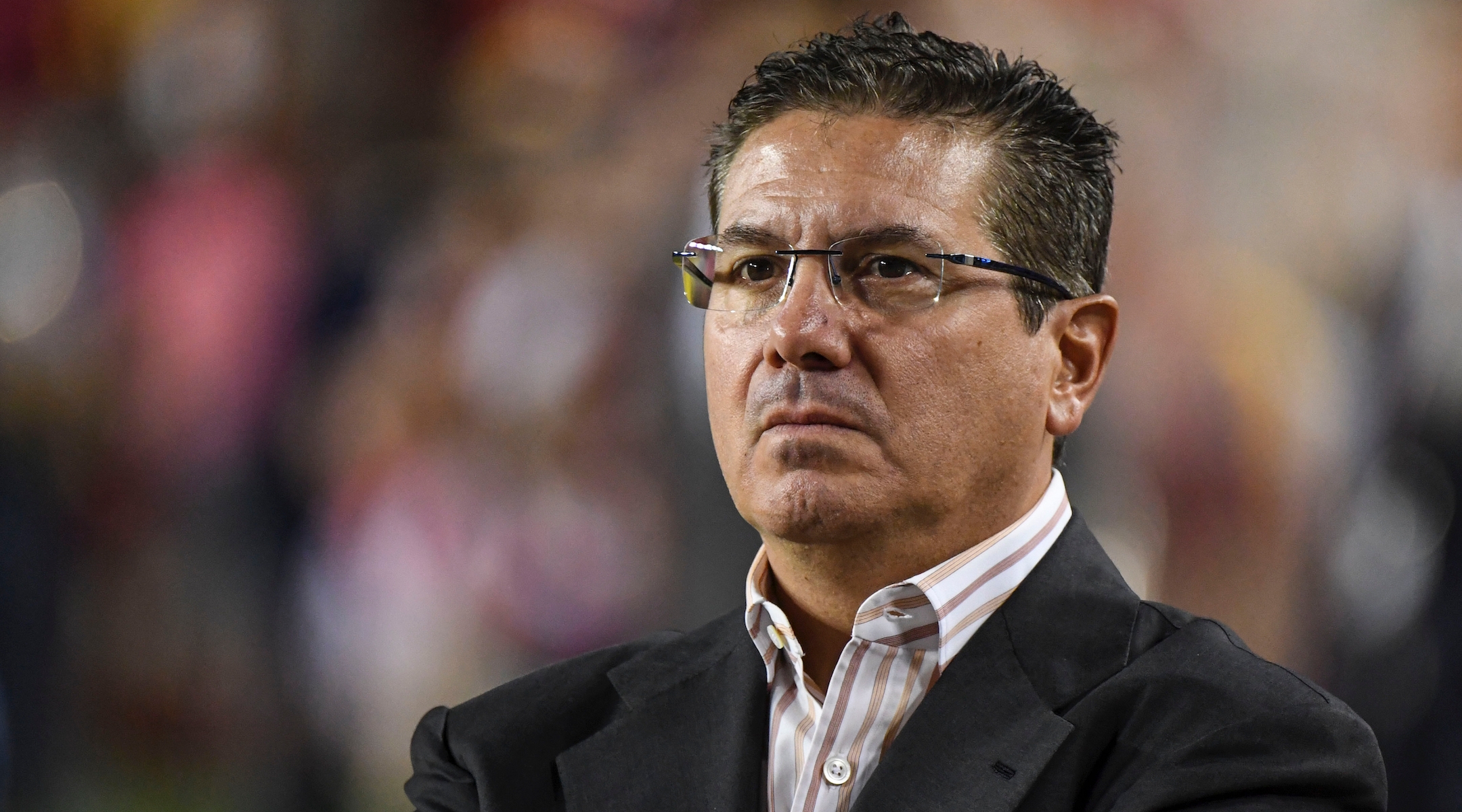 As bad as it's been for some in this division, no organization has had a worse offseason than Washington. Snyder's team has been in turmoil this last month, with sponsors threatening to withdraw their support if the team's name is not changed, minority share holders selling their shares in the team, and, most recently, a Washington Post article that found cases of sexual harassment, a depleted and neglected HR department, and ineptitude on a scale previously undreamt of in the NFL as commonplace in Washington's organization, begetting another investigation. Thankfully, people finally realized that a sports team should not be named after a race of people, nor should that name be a racial slur. Washington has officially retired the "Redsksins" moniker and will be announcing "a new name and design approach that will enhance the standing of our proud, tradition rich franchise and inspire our sponsors, fans and community for the next 100 years" sometime in the near future. What cannot be changed as easily, however, is the culture of the organization. 15 female Washington employees allege that they were subject to sexual harassment by members of the organization. Three of the five men named in the alleged sexual harassment left the organization within the past week after the Washington Post presented their findings to the team. Two were fired and one retired, all but confirming their guilt. It's safe to say that Washington are a mess right now, so much so that they make the Cleveland Browns look like a well-run organization in comparison.
Foolish decisions by management, disappointing on field performances, asinine and criminal actions by players, ineptitude in the front office, and a horrible culture on their own would be tough to overcome but together they've made the perfect storm. The division has really earned the title NFC Least. Least in terms of wins, least in terms of winning percentage, and least in terms of exhibiting respectful behavior to be followed by other organizations across the league. Although it's Washington that has to shoulder the most when it comes to earning back respect, both as an organization and as a team, Dallas, Philly, and New York all have a lot of work to do to collectively get out of the hole the past year has thrown them into. I suppose the silver lining is that things can only get better, but with 2020's track record so far I wouldn't want to risk jinxing it.