The offseason can be extremely boring. After 19 weeks of thrilling and competitive football, fans have to sit through seven long months of no NFL gameplay. While free agency is quite the rollercoaster, that only lasts for about a week. There's the NFL Draft, which is probably the most hyped up draft in all of professional sports, however the buildup surrounding it, and the actual event itself, only knocks off around a month of the offseason. We're then left with three tough months where news, speculation, and anything exciting is extremely scarce (May, June, July), until preseason football in August revives us all. More than any other professional league, the NFL offseason is the season of speculation. Fans spend months on end arguing about whether their team is going to finish 9-7 or 10-6, somehow passing the time until the very first kickoff. But every year, amidst the speculation, certain sagas run their course. Sagas that hold certainty -- they aren't a matter of if, but when. It's these sagas that truly keep the flame burning for many NFL fans. A year ago, we were all glued to Antonio Brown, mesmerized by the circus that he could create, just waiting for him to run himself out of Oakland. We listened to rumors of Jadeveon Clowney leaving Houston all summer, and anxiously awaited the day he was finally traded. In an NFL offseason, there are dominos that every fan knows will fall. However, it is impossible to predict when each story will come to fruition. For now, like any NFL fan through the offseason we speculate -- and why not order the magnitude of each domino, bound to fall soon?
10. The 49ers Trading Raheem Mostert
This one is a little bit tricky. It's hard to judge the value of Raheem Mostert. On one hand, you have to admire his perseverance and incredible story. On the other, it's easy to view him as a product of a fantastic scheme, a great offensive line, and an offense that is impossible to predict. The 49ers constantly rotated their running backs last year, and even after trading Matt Breida to the Dolphins, losing Mostert should still not worry them, as they still have Tevin Coleman and Jerrick McKinnon to lean on. What really makes the Mostert saga interesting is how his relationship with the 49ers fell apart, and how his incredible story will continue as he moves on elsewhere.
9. The Browns Trading David Njoku
Since Njoku requested a trade, reports have surfaced that the Browns see him in their long term plans, and would very much like to hang on to him. It's obvious to see why. Njoku is just 23 and was highly regarded as an elite prospect coming out of college. He's in need of a fresh start to help rejuvenate his career, especially after Cleveland spent big to bring in Austin Hooper. The Browns can talk all they want about wanting to hold on to David Njoku. The truth is, he will likely be moving on. With a deal set to happen sometime before free agency, the landing spot will be huge for the future of this talented and young tight end.
8. Antonio Brown Saga
I'm not here to guarantee he is going to sign with a team, but we surely haven't heard the last of Antonio Brown this offseason. From now until September, he will find a way to stir up some noise. Whether it's more QB's asking their team to go after him, posting crazy workout videos, or Roger Goodell dropping the hammer on a lengthy suspension for the receiver, he is bound to be in the news at some point. While this one is the biggest stretch of the 10 on this list, AB needed to be included out of sheer excitement. Because if, by some odd chance, he ends up signing with a team, the league will erupt.
7. Leonard Fournette Trade
While this is not as certain as Raheem Mostert or David Njoku, as Fournette himself has not publicly requested a move, there have been enough whispers to suggest that this could very well happen. Fournette is coming off of a down year in which he only reached the endzone 3 times, has recently seen his 5th-year option declined, and reportedly has been shopped by the Jaguars - a team with all signs pointing to a tank-show. Fournette was dubbed a transcendent talent coming out of college, and was even drafted over Christian McCaffrey. It wouldn't come as a surprise if many teams still view him as a young running back full of potential, that just hasn't had his talent capitalized on in Jacksonville. Fans of Fournette will no doubt try to pry him away at a cut-throat price. Your move, Tampa Bay Buccaneers.
6. Jadeveon Clowney Signing
2020 has become the year of unwanted first overall picks. Jameis took a backup role in New Orleans for way under his market value, Cam had to wait until late June to sign with a team, and Jadeveon Clowney is still a free agent. Perhaps he really is unwanted, or perhaps he is asking for way too much money. Either way, the Jadeveon Clowney train has been extremely quiet as of late, but will surely find a place to stop before the season begins. He reportedly turned down an offer of close to $18M early in March from the Dolphins, and hasn't seen a figure close to that since. The Browns, Titans, and Seahawks have been in and out of the mix recently, and it's hard to imagine a player of this caliber be on the market for much longer. If he can drop his price, he can instantly turn a defensive line into a top unit in the league.
5. Yannick Ngakoue Trade
It gets worse for the Jaguars. The Yannick Ngakoue saga has been messy, to say the least. He has publicly asked for a trade on numerous occasions, has verbally scrapped with Jaguars owner Tony Khan on Twitter, and has refused to sign his franchise tag. He will be moved, but due to his poor judgment, has really created a dent in all the leverage the Jaguars had. He's a very talented pass rusher that a number of teams would love to add, but the rebuilding Jaguars are going to make sure they are properly compensated in the return for him -- which could extend the duration of this saga. Nevertheless, it's hard to imagine him playing another snap in a Jaguars uniform, and will more than likely be dealt at some point this summer. So sit back, relax, and wait and see how ugly this one gets.
4. Chris Jones Holdout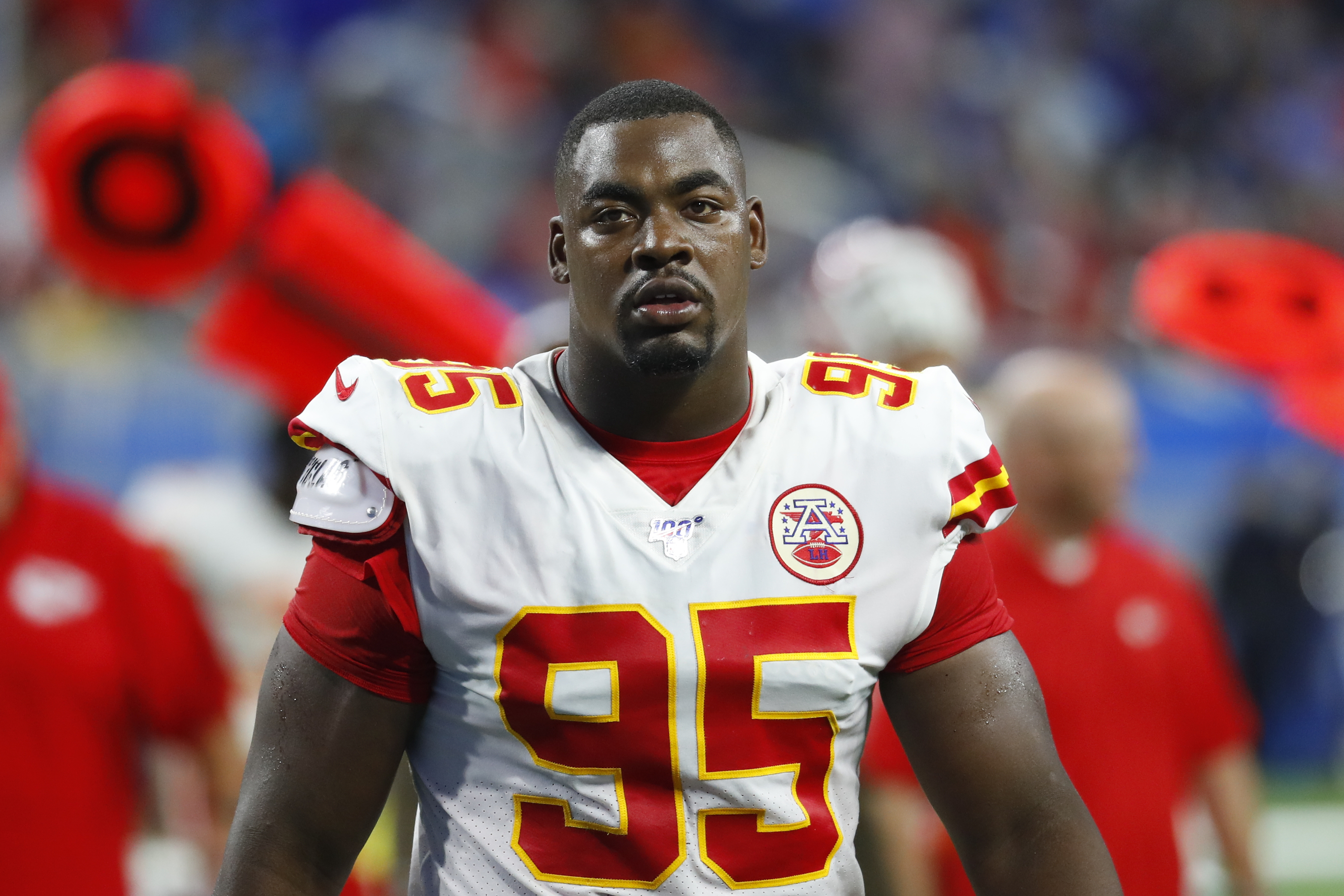 As invincible as Mahomes and the Chiefs are often perceived to be, how the Chris Jones situation plays out will be crucial to their Super Bowl hopes for this upcoming season. Jones is an integral part of their defense, he not only fortifies the defensive line, but also makes the jobs of everyone else on the field much easier due to all the pressure he creates. Without him, the Chiefs are a very different football team, and with current salary cap concerns and Jones being reluctant to play on the franchise tag, this one could get messy. We're bound to see some sort of movement on this soon, especially with the July 15th deadline for franchise-tagged players to sign a longterm deal fast approaching.
3. Dak Prescott Contract
Much like Chris Jones, Dak Prescott received the franchise tag. However, unlike Jones, Prescott has already signed his tag and doesn't seem to have an issue with playing on it this season. It's not the best idea to have your franchise QB playing on a franchise tag, and the Cowboys knows this. The two sides have gone back and forth on multiple occasions, and are adamant about getting a deal done, but reports have suggested they are far from any sort of agreement. After Patrick Mahomes broke the bank by receiving a $450 million dollar deal from the Chiefs, the Dak Prescott situation just became even more intriguing. The Cowboys don't have much room to play around with the cap, but also can't mishandle this situation with Dak. It seems there is still a lot that has to play out before this saga is wrapped up, but if a deal is agreed upon during this offseason, the contract value is going to be a highly debated talking point.
2. Washington Redskins Name Change
Leave your opinion out of this, the Washington Redskins are changing their name and it's time to accept that. One of the most historic franchises in the NFL, it will certainly take some time adjusting to, but the anticipation and buildup of what the name may be is a great distraction in the dead of the offseason. Several fans have pitched logo designs, uniform mockups, and have let their voice be heard as to why the Redskins should go in a certain direction. Regardless of the final selection from Dan Snyder and company, it will be intriguing to say the least as the NFL will have a team change their name without relocating for the first time in over 20 years (1999 Tennessee Oilers became the Tennessee Titans).
1. Jamal Adams Trade
This has to be number 1 doesn't it? How often does one of the best players in the league become somewhat available for trade at the age of 24? The Jets can say they want to hold on to Jamal Adams all they want, but two things are clear in this. Negotiations have been a disaster between the two sides, and Jamal Adams really wants out. I think the "too far gone" moment happened when he publicly stated on video that he's "trying to go to Dallas". The Jets can keep trying, but Adams is going to get traded one way or another. And when it happens, it will rock the NFL world.