Yesterday Raheem Mostert, perhaps the biggest breakout star of last years playoffs, requested a trade from the San Francisco 49ers. This comes after the two parties struggled to make adjustments to Mostert's contract, which currently is paying him a base salary of $2.575 million a year, and up to $3.15 million when factoring in bonuses. Mostert is seeking a contract more in line with teammate Tevin Coleman's that would pay him upwards of $4 million a year, reportedly.
Mostert is not the first running back in recent memory to have issues reaching an agreement on a new contract with their team - Ezekiel Elliott, Melvin Gordon, and Le'veon Bell were all prepared to holdout, or did holdout, until they received a new contract they felt was fair. However, there is one important distinction to make between Mostert and these other backs, as they each have had more than one productive season in their NFL careers and were proven consistent starters.
Mostert's first four years in the NFL were anything but consistent. He bounced around from Cleveland, to Miami, to Baltimore, to Chicago, to San Francisco, totaling a measly 42 rushing attempts. Yet Mostert captured lightning in a bottle for the 49ers in 2019, leading the team in rushing yards with 772, and averaging 5.6 yards per carry, which was the best in the league. Mostert was even more impressive in the playoffs and a historic performance against Green Bay in the NFC conference championship accounted for 226 of San Fransisco's 358 total yards and all four of their touchdowns.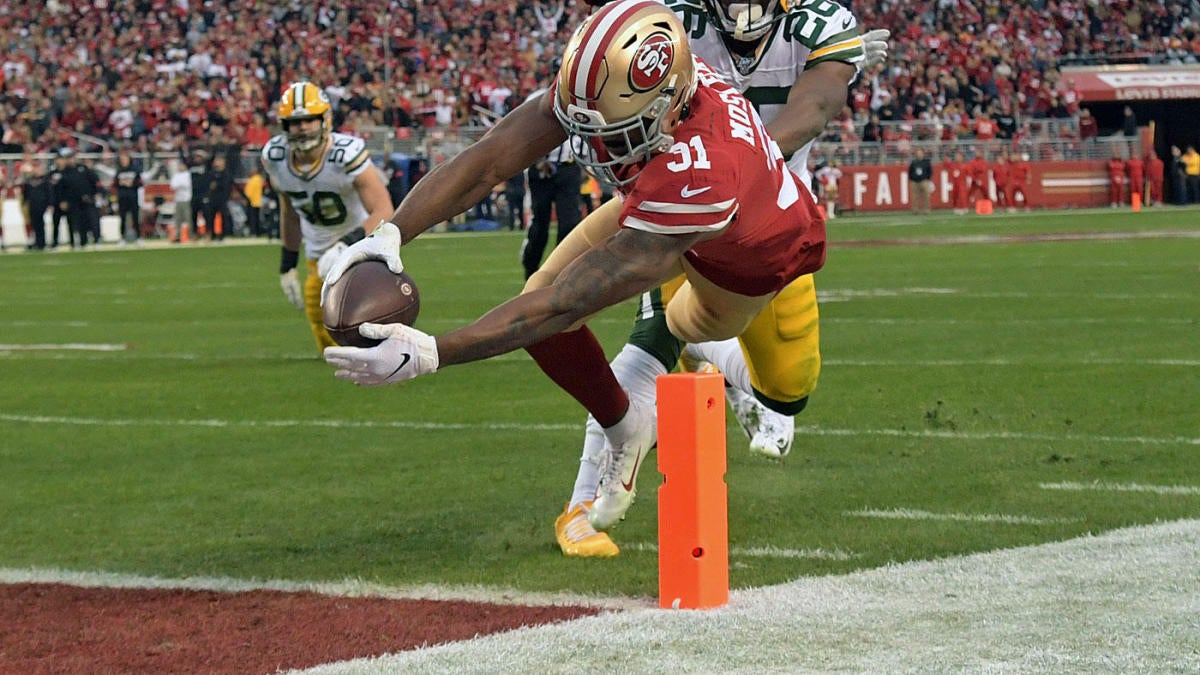 This is Mostert's leverage for a new contract: a decent regular season and explosive playoff performance. Mostert only had one 100-yard game in 2019, week 13 against the Ravens, and only averaged 48.3 yards per game. In the playoffs he was great, but are two good games, and one great one really deserving of a new contract? Especially considering the massively unproductive first four years of Mostert's career?
I find myself saying no. Or at least, not yet. If the 49ers are able to get the playoff version of Raheem Mostert throughout this upcoming season then yes, give the man his bag. But considering his production for teams not named the San Francisco 49ers, it seems unlikely. It's not impossible that he's entering his prime at 28, and can remain productive at a high level, but considering the first four years of his career, it does seem improbable. Consistency is key in the NFL and so far Mostert's career has been anything but.
It's not only a risk for the 49ers to up Mostert's salary considering his nonexistent production prior to 2019, but they would be upping a salary that already makes Mostert the 18th-highest paid running back among all in the NFL for the upcoming season. The Niners are arguably already paying Mostert like a starter. And considering that only two of the teams with the top ten highest-paid running backs in the NFL - Houston and Tennessee - made the playoffs last year, the 49ers, and really any team, should be wary of shelling out too much for running back talent.