Former Rams, Giants, and Cardinals quarterback Kurt Warner's story is heading to the silver screen. American Underdog: The Kurt Warner Story will feature Zachary Levi playing the titular Hall of Famer and will be based off of Warner's memoir "All Things Possible: My Story of Faith, Football and the First Miracle Season." Warner is quite possibly the greatest undrafted free agent of all time and his journey from grocery store clerk to Super Bowl winning quarterback is no doubt deserving of a cinematic adaptation. This got me thinking, what other figures in the football world have stories that I'd like to see Hollywood tackle?
Tyler Trent
The Tyler Trent story starts in 2017, with the Purdue student camping outside the stadium prior to the Big Ten home opener. He would pose for a picture with head coach Jeff Brohm, having just spent the previous afternoon at a chemotherapy session to treat his osteosarcoma: a type of cancer which effects the bone. His cancer was first discovered by doctors in 2014, but it didn't stop Trent from applying to and then attending his dream school. Trent was immortalized in the hearts of Boilermakers and the college football world when he predicted his Purdue Boilermakers would defeat juggernaut Ohio State on a College GameDay feature. The Boilermakers would win, thrashing the Buckeyes 49-20. From then on, Trent became synonymous with Purdue football. In the weeks that followed the upset, Trent would win several awards, co-host an episode of SportsCenter, join the Scott Van Pelt show for an episode, write a column for the Indianapolis Star, and have a bobble head made in his likeness. He would also become an honorary captain for the Boilermakers football team, spend considerable amount of time with players on and off the field, and become great friends with quarterback David Blough. While his story doesn't have a happy ending - Trent lost his battle against cancer in 2019 - Trent's prediction, the game itself, and the events that followed certainly deserves a re-telling on the big screen.
Tom Brady
Tom Brady is the ultimate underdog: not highly recruited out of high school, competed for a starting job in college, and sixth round draft pick turned six time Super Bowl champion, 3 time MVP, and arguably the greatest quarterback ever. In his 20 years with the Patriots, Brady's career offers several different storylines which could be made into a movie. The rise from backup to starter to Super Bowl champion, the (almost) undefeated season, Deflategate, the comeback against the Falcons in Super Bowl 51. You really couldn't write a better underdog story that Brady's. Although he is getting a nine part ESPN documentary, The Man in the Arena, there is still so much to Brady's career that there could certainly be a market for a cinematic re-telling of it.
George Blanda
George Blanda has several distinctions that separate him from the thousands of other players who've suited in in the NFL, making his career ripe with inspiration for a feature film. Firstly, Blanda is the oldest player to play in the league, playing until he was 48 years of age, retiring in 1975. Blanda also played in five decades: he started his career in 1949 with the Chicago Bears, played through the fifties with the Bears, Baltimore Colts, and Houston Oilers, played through the sixties with the Oilers and Oakland Raiders, and then the seventies also with the Raiders. Additionally, Blanda played both quarterback and kicker throughout his 26 year career. It would be tough to condense his long career into a two hour experience, but there was a stretch of five games in the 1970 season in which Blanda was incredible that would make for a compelling movie. He was a backup quarterback for the Raiders at the time and when starting quarterback Deryle Lamonica was benched in the first quarter of a week six game against the Pittsburgh Steelers due to a back injury, the 43 year old Blanda was thrust into the starting role. Blanda, the oldest player in that game, would throw three touchdowns en route to a Raiders victory. Next week, down 17-14 against the Kansas City Chiefs, the Raiders set up a 48-yard game tying field goal for Blanda. He drilled it, ending the game in a tie. Down 20-13 in the 4th quarter the next week against the Cleveland Browns, Lamonica went down again with another injury. Blanda stepped in a drove the Raiders down the field to score a touchdown, also kicking the game tying field goal. With 44 seconds left, Cleveland threw an interception. Blanda would have the opportunity to kick a 52-yard game winning field goal with 7 seconds left. Again, he drilled it. Same story the following week, trailing in the fourth Blanda replaced Lamonica and scores the game winning touchdown. Next week against the Chargers, with the game tied 17-17, Blanda kicked the game winning field goal. In five weeks, Blanda had kicked three game winning or tying field goals, thrown a game tying touchdown pass, one game tying touchdown pass, and had a 109.7 passer rating. The production is incredible, both for Blanda's age and the two positions he played. This five week stretch of miraculous comebacks would be great material for a movie.
Tamba Hali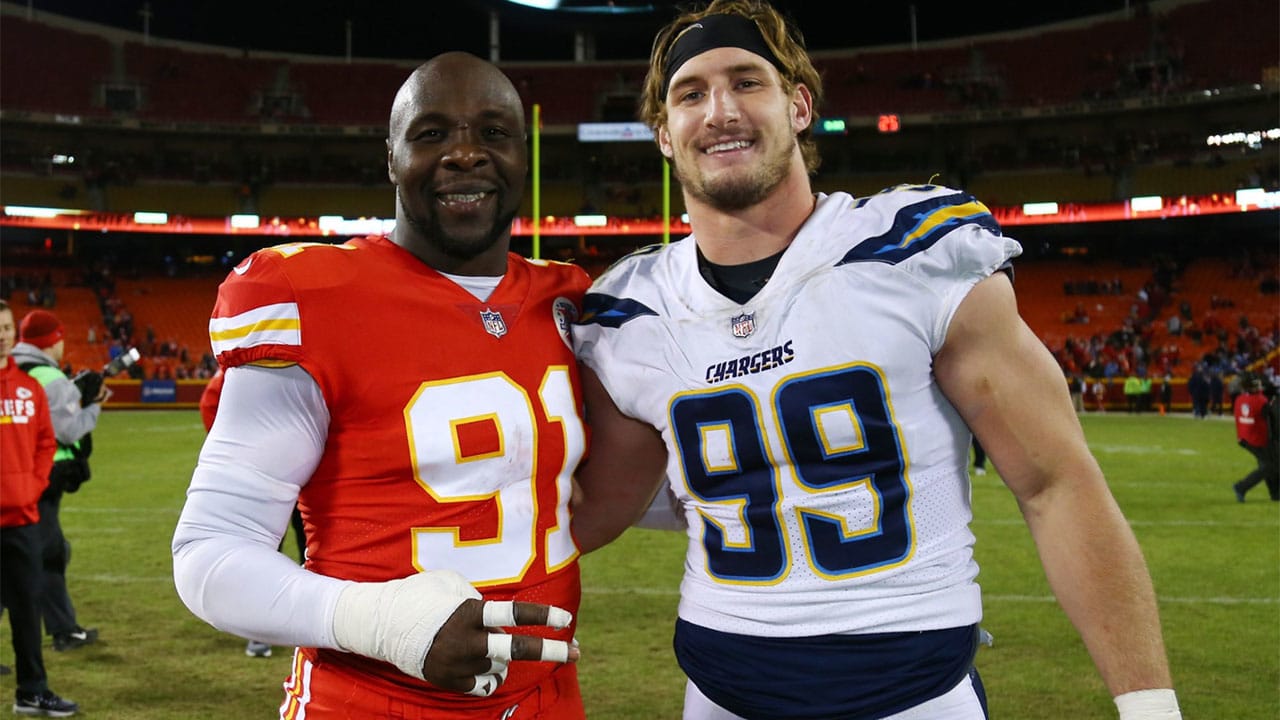 In the grand scheme of things, football plays a small role in former Kansas City Chiefs linebacker/defensive end Tamba Hali's life story. Though he was a five time pro bowler and dominant edge presence, it is not his football career, rather the journey to get there, which makes Hali's life story deserving of a movie. Born in Liberia, Hali was only six years old when the country was plunged into civil war. At nine, the fighting around his home town became so dangerous that he, his three siblings, and his mother, fled to the countryside where the foraged for food, surviving on whatever they could find. Hali says he remembers piles of dead bodies and being in a constant state of fear from the danger, bullets and death. The five would survive, but Tamba's father, who emigrated to the US in 1985, could only secure visas for his children. They wouldn't be joined by their mother for 12 more years. In 2006, Hali was granted full citizenship and, with help from the Chiefs organization, was finally able to bring his mother to America. Football not only helped Hali find success in America, but helped bring his family back together. His story is one of incredible perseverance and subverts many expectations of football players and the sport itself. A movie about Hali's experiences in Liberia and success in the NFL goes to show how often times, football is more than just a sport.
Joe Burrow
Although it might be a little too early to crown Joe Burrow's football career as worthy of a movie, his unlikely success at LSU and what he can come to mean for the people of Ohio can't be ignored. Like Brady, Burrow's story is that of an underdog, a hard worker who had to grind their way to success amid hardship and doubt. Much of Burrow's college career mirrors the 1993 classic Rudy: someone who dreams of success of the football field but must overcome heaps of obstacles to make the roster before becoming a hero. It's for this reason that I feel Burrow's story lends itself so perfectly to being immortalized on the silver screen. Much of Burrow's story has yet to be written, and if his NFL career is anything like his last two years at LSU it will only strengthen a case for a film adaptation.